This year's Innovation Week held by the University of Applied Sciences Upper Austria in Linz
Every year in February the University of Applied Sciences Upper Austria hosts its "Innovation Week" in Linz. Following the framework of a design thinking workshop, the event provides students with the perfect opportunity to tackle complex problems that are proposed by the sponsoring companies. Complying with the COVID-19 regulations, this year's event took place at the Tabakfabrik in Linz.
At NTS Retail, we are very happy to be part of the Innovation Week once again and we can't wait to tell you a bit more about the event in this blog post.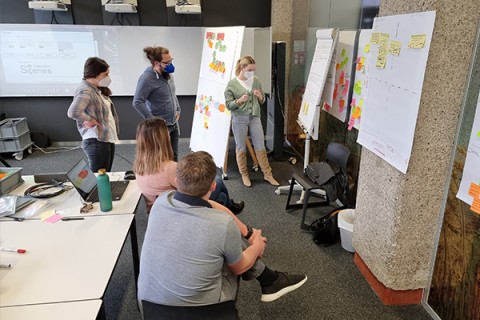 The assignment: Simplifying the stocktake process
To challenge the students, we had them come up with innovative solutions to optimize the stocktake process in telco stores and make it simpler and more efficient for the employees. Inventory management and regular stocktakes of all products available in-store pose a certain challenge for the sales staff in telco shops: Items need to be counted and, where necessary, the associated serial numbers of the items also must be recorded. 
To familiarize themselves with the topic, the students conducted interviews with sales agents working in telco retail, aiming to identify the most important underlying problem areas regarding stocktakes. As a result of these interviews, it turned out that the processes leading up to the actual stocktake represent a considerable amount of workload for store employees. Anticipating the count, items are already arranged in a certain order so that all barcodes point to the same side for quicker scanning.
Of course, this preparation work can only help to a certain extent: Meanwhile, the stores are in regular operation and customers move, buy or return items, and thus influence the stock levels. Following the round of interviews, the students' approach was quickly focusing on how this "stocktake before counting" could be supported through technology in the best possible way.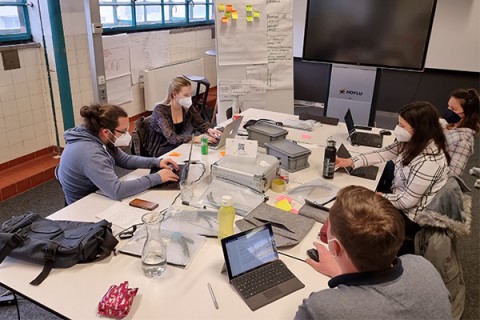 Simplification with technical assistance
In their analysis and the subsequent workshop, the students came up with the following ideas: One suggestion was to use additional technical solutions (e.g. RFID tags) to record the items and make them traceable even before the barcode is scanned. This could make it easier to locate specific items - a process that often takes a particularly long time when preparing stocktakes.
The students addressed the challenge methodically, working on a problem from real practice and demonstrating that they perfectly understood the issue, and apply the knowledge and skills acquired during their studies in a practical context.
We would like to thank the University of Applied Sciences Upper Austria and the participating students for this inspiring Innovation Week. We are very pleased that quite a few of our colleagues are graduates of the university, and we are looking forward to upcoming chances to cooperate in the future.