NTS Retail supports the Austrian Red Cross social market project again with a generous donation of goods
With the grocery prices skyrocketing in Austria, many people struggle to keep afloat in this economy. Even in a prosperous country like Austria, the current situation is a concern for a lot of citizens, and it is not uncommon that the increased prices drive a lot of them to the brink of poverty. 
Not only have the last few months been hard on many Austrian families, but also on the Red Cross social markets, as donations are getting increasingly less with the current prices. Therefore, NTS has decided to support the 'Red Cross market' in Leonding with food and hygiene articles already for the second time after 2022.
Our fellow NTSers mostly donated money to support the project and NTS Retail has generously rounded up the amount. With the collected money, our colleagues bought goods with a long durability, ranging from groceries to hygiene products. In order to support the Red Cross market as best as possible, we decided to intentionally plan our fundraiser for May since most of the donations to the Red Cross are made in the period leading up to Christmas. 
All year round, there is a high demand for Red Cross market goods, and it is even more important to support this initiative as the donations are getting scarcer in the off-peak season. In the past weeks, we were able to fill out an entire SUV with our collected goods. We are beyond grateful to our amazing colleagues for making donations and to the internal organization team.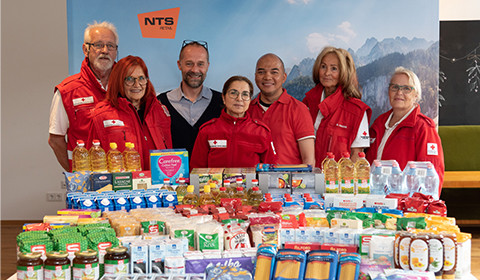 This week, on May 15th, 2023, it was finally time to welcome the Red Cross volunteers at our headquarters in Leonding and hand over the collected goods.
The Red Cross has been a dear partner over the course of many years, as we cooperated on a variety of different projects, including: