NTS Retail at FH>>next 2021 at the University of Applied Sciences Hagenberg
This year we once more had the opportunity to be a part of the FH>>next info event for students at the University of Applied Sciences in Hagenberg. Following a purely online event in 2020, this time the event could be held on-site thanks to a clear COVID-19 security concept. Our colleagues Ute, Gerd, Johannes and Nina represented NTS Retail and happily answered questions from students of over 20 fields of study. Students flocked to the campus buildings, which were brought to life by 160 regional and international exhibitors.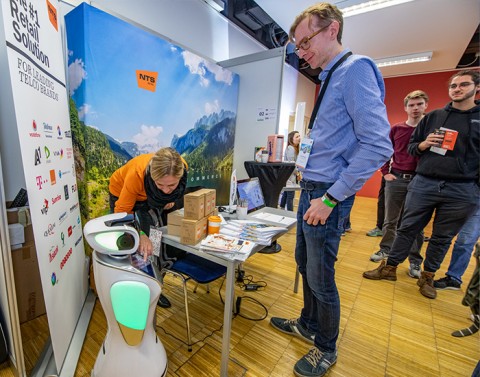 Our team was once again supported by 'Roberta', our robotic assistant, who has already accompanied us to almost every single continent. The little robot attracted a lot of attention as it lightened the mood of passing students with its "dancing" skills.
The students were mainly interested in the internships offered at NTS Retail, as well as in our company and our product portfolio. As some of our colleagues have successfully graduated from Hagenberg's University of Applied Sciences themselves, lively discussions about their own experience as a student and possible career paths at NTS Retail arose. FH Hagenberg offers a top-class education in Mobile Computing, Medical and Bioinformatics, Data Science as well as Engineering and is an important, regional driver for securing qualified jobs in Upper Austria.
For years, we have had the pleasure to be a part of exciting cooperation projects with FH Hagenberg, and were extremely happy to be back on campus and represent NTS Retail at FH>>next.
Are you a student or graduate yourself and interested in a job at NTS Retail? Visit our career page for more detailed information. We are looking forward to meeting you!
For those who could not attend, here are a few impressions from our booth: