You are here
Welcome & Queue Management
Welcome & Queue Management
The NTS welcome manager is a highly sophisticated queue management software for retail stores. Right upon entering your shop, customers can give a brief outline of why they have come here (e.g., product consulting, contract renewal, questions about their latest invoice, etc.). The customer is automatically added to the queue for the sales agent best fitting their needs. Doing so, the sales agent has enough time to get a full overview of why the customer has come to the store and can then best serve them.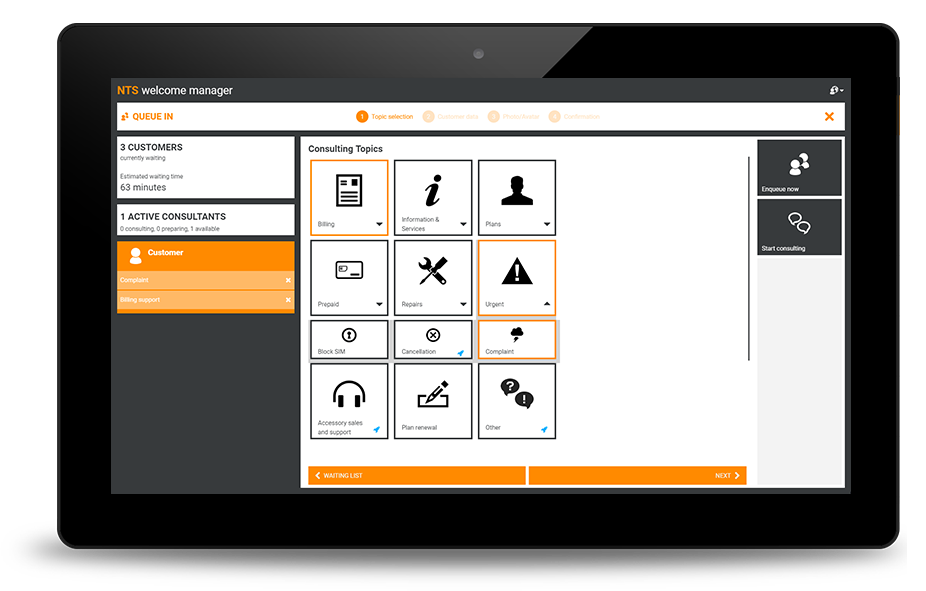 Identify your customers
While waiting, the customer is able to freely stroll through your store and, once the assigned sales assistant becomes available, can be easily identified and approached by them. This is made possible either by a before taken picture or an individual avatar (e.g., male, shirt, tie, jeans and umbrella) quickly created during the initial phase. This very personal approach puts an end to the oftentimes unloved system of drawing a number and makes your customers feel welcome.
Bridge waiting times
When the approximate waiting time is below 10 minutes, most customers will stay in the store and explore other products — completely without having to pay any attention to otherwise often-used display monitors showing the next number to be called.
Building up long queues during peak hours cannot be avoided completely, but our top-notch queue management software, the NTS welcome manager, also offers an automatic SMS notification feature for customers. This allows them to efficiently use the waiting time to do some shopping or run other errands nearby. Shortly before it is their turn, they receive a text message informing them that it is time to come back to your store.
Satisfied employees and perfect customer consulting
This also gives your sales agents enough time to get a full overview of why a customer has come to see them and to find the best possible solution without coming under pressure due to long waiting lines. Once a sales agent is done consulting a customer, they can use the already available information as preparation for the next one. Thanks to the clear presentation of the respective data, your employees already know important details of a customer's visit, which also means that the customer does not have to tell their story from the start.
An ideal preparation enables employees to better adjust to the customer's specific needs, for example while handling claims. Sales consultants can use of up- and cross-selling opportunities to their full potential. This guarantees highly efficient consulting and also increases the level of overall satisfaction amongst both your employees and your customers.
Schedule fixed appointments
If the customer has no time to wait at all, it is also possible to arrange an appointment for another day. Appointments can either be made during the queuing process right upon entering the store or a couple of days in advance via the shop's website, a mobile app or by calling in.
Short facts
Provide your customer with a warm and personal welcome upon entering your store
Use our queue management software to collect information on the customers' needs right upon stepping in the store
Determine and assign the sales agent best fitting the customer's needs
Abolish long lines of people deterring customers from coming in or making them leave immediately
Enable your employees to optimally prepare themselves for the next customer consultation and boosting the use of up- and cross-selling opportunities
Foster efficient claim handling thanks to a relaxed, positive atmosphere in the store
Let your customers schedule fixed appointments to avoid the queues from building up
Notify your customers shortly before it is their turn