Discussion with our partners Qvantel: Retail – Integrating Digital and Physical
Thank you to our partners from Qvantel for collaborating on this piece with us! This blog post has originally been published on Qvantel's blog. See https://blog.qvantel.com/blog/retail-integrating-digital-and-physical 
Some people prefer to go into stores than deal with an app or website. They like to see physical goods before they buy, and they prefer to have their questions answered by a human being. However, most people don't like queuing in a busy store, they don't like when the sales assistant is lacking in basic product knowledge and can't answer their questions. Getting it right can be tricky.
According to a consumer study by Morning Consult in 2022, 52% of people prefer to shop in-store than online when buying personal electronics. That figure shoots up to 82% when shopping for grocery and household goods. As we return to relative normality people are returning to high streets and malls. The Morning Consult report offers the following advice:
"Consumers won't forget the convenience of online shopping as they return to stores, but leading retailers should further support blended shopping journeys by refitting their stores to better serve online orders and by integrating digital tools into the brick-and-mortar experience".
Looking at smartphone sales distribution, a 2021 report by GSMA Intelligence assessed that 42% of sales happened online, while 31% stemmed from operator-owned retail channels and 28% from partner channels. The report also forecasts growth for the online channel (47%) and a decrease in the partner channel (22%) for 2023/24.[1] This is a prediction that is at least somewhat rebutted by companies like Vodafone UK, who are running as many as 98% percent of their stores on their franchise model.[2]
So, what does this mean for telecom companies as they look to sell an increasing range of services and devices? Many telcos now sell a range of connected devices—everything from vacuum cleaners to security alarms and many also now sell services such as telehealth, insurance, and entertainment. While some people can easily navigate their way through a website and app, not everyone can. This raises a couple of interesting areas that retail stores can help with. Firstly, they can help make people aware of new products and services. This can be in the form of demos and videos to help educate the consumer and create demand. The other point is that stores can help educate consumers on the use of digital channels. Staff can show customers how to use the app and website, not only for shopping but also for services such as customer care. Many stores are taking this approach and also introducing web-based checks out so customers can get used to buying goods and services through digital channels, but there will be a member of staff on-hand just to help out if needed.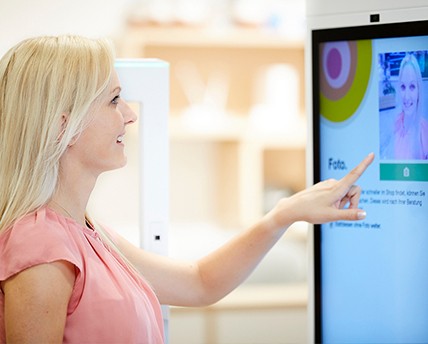 Augmenting retail with the right technology mix
There are many ways that retail experiences can be improved with digital technology. These can include queueing systems where a customer can take their place in a queue via their phone and then arrive at the store two minutes before their place in the queue is due to be served. Also, information screens in the store can promote all types of digital content to customers, and then when they're ready to buy, digital kiosk services can provide self-service in a store environment. By having info screens and digital kiosks in-store the customer's retail journey is moving away from the counter to many touchpoints in the store and as such, the salesperson must evolve from taking orders and using the cash register to consult the customer about new services and also to help educate them on using digital channels. As well as this telcos can use stores as pick-up places for eShops.
In order to look at an example of how stores can help upsell new services let's take 5G. Many customers won't have tried out services using 5G, so it's hard for customers to know what the differences between 4G and 5G are. With 5G there's also an opportunity to show the difference between traditional broadband, 4G, and 5G. This could be on screens where the customer can see the difference between watching a 4K video over standard broadband, compared with 5G. The same option could be for online gaming as well. For new products like AR and VR headsets, stores provide a good place for customers to try before they buy.
From device sales to service sales
With more products and services to market and sell, as well as the need to educate customers on how to use digital channels, retail stores that use digital tools are the way forward for telco stores. In addition, retail stores are integrated into the telco's BSS, so that point of sales (both physical and digital) is integrated with product and service catalog as well as network and equipment provisioning. As well as this store information about the use of demos (e.g., for a 5G broadband service) should be captured and used to deliver personalized marketing and sales.
With the rise of 5G, there is no doubt will be an even stronger shift towards digital products delivered to the customer over the networks in an OTT model. Apple has already left its mark on that end with the decision to not include a SIM tray in the latest iPhone 14. This decision might turn out to be prophetic—like the proclamation of the death of Flash—and usher in an era when telcos will increasingly start to sell what's on the device instead of the device itself and capitalize on the underlying infrastructure.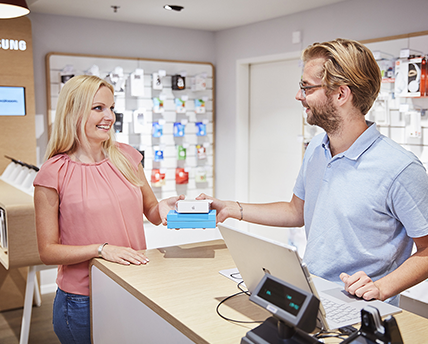 Retail stores as a way to bridge the technology adoption gap
The shift towards digital products also brings with it a lag in mainstream adoption of those products and technologies. Media delivery is a key example of this, where the generational gap between how media is being consumed may well be more extreme than ever, for example between the TikTok generation and those still enjoying linear programming. For telco retailers, this creates the opportunity to take on an educational role and benefit from it at the same time. Technology adoption rates vary strongly between consumers and to some extent are a function of the diversity of the associated lifestyles. Physical retail stores are a good means to address demographic diversity and cater to those consumer groups who appreciate the in-person experience, regardless of age, gender, ethnicity, or way of life.
In their report, GSMA intelligence identified several key opportunities where the retail channel can add critical value: in-person up- & cross-selling of services, accessory sales, repair services, and convenience sales (e. g. click & collect, locker pickup).[3]
The common denominator between all these points is: They rely on the physical presence of a store and are augmented substantially by knowledgeable, skilled sales staff.
Some people like to shop. Others don't. Most people are comfortable using websites and apps. Some aren't and need education and help. By combining digital and physical in a retail store telcos can help deliver the best retail experience, educate their customers on how to use digital channels as well as provide a marketing and sales channel for their increasing range of products and services.
Authors
Tero Nieminen
VP Partnerships at Qvantel
 
Stephan Berger
Head of Marketing at NTS Retail
Sources
[1] The future of telco retail: towards an omnichannel world. GSMA intelligence. March 2022, p. 35.
[2] Vodafone: "How Vodafone's franchisee store entrepreneurs relish 'being the boss'" See: https://www.vodafone.co.uk/newscentre/features/retail-stores-how-local-expertise-and-a-global-brand-work-together/
[3] The future of telco retail: towards an omnichannel world. GSMA intelligence. March 2022, p. 39.