NTS Retail and Accenture
Exploring the retail experience of the future
At NTS Retail, we are driven by the goal of helping our clients to deliver a state-of-the-art retail experience on all channels. As such, we value partnerships with thought leaders in the retail industry, as they mark a great opportunity for us to look beyond our usual focus and learn from different perspectives. Recently, we had the pleasure to collaborate with Accenture as we contributed by implementing our guided-selling software solution into their Innovation Lab in Milan. The Milan branch of the Accenture Customer Innovation Network is all about showcasing the retail environment of the future.
The focus for this recent showcase was put on luxury retail, high-end fashion to be even more specific, a deviation from our primary focus on telco retail. Such detours are essential in our mission to keep innovating our products to meet the demands of an ever-changing market.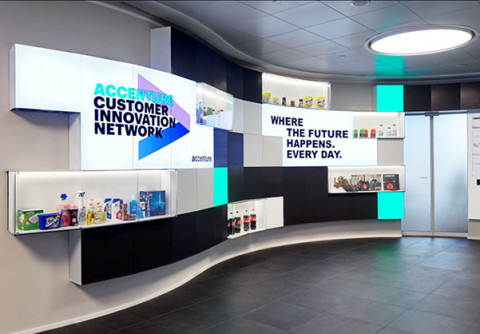 What drives luxury retail?
And where better to look than at the world of luxury retail? An industry, which relies heavily on engaging interactions between well-informed, highly brand-conscious customers and knowledgeable, service-oriented staff. Ideally, those interactions should proceed as naturally as possible and build upon a relationship of trust and comfort. Both industries deal with products, which reflect a particular lifestyle and convey a sense of identity from the customer's perspective. The products do not primarily serve to fulfill daily needs but rather become expressions of a unique personal style. This, in turn, makes a flawless product-based presentation even more essential in the sales process, as the buying decision largely depends on the customer's perception of whether the product matches their individual taste and sense of identity.
Using RFID tags to streamline the guided-selling process
For this latest project, we implemented our guided-selling solution NTS sales assistant into Accenture's showcase lab. With the addition of implementing RFID tags, our solution serves to digitally identify individual pieces as soon as they are held in proximity of the RFID scanner. The article is then displayed on a large touchscreen, where additional information can be viewed, and articles can be compared with one another. This provides sales employees with a great way of presenting articles and their key features, without even having to take them out of the box.
The article information to be displayed is not limited to plain text. Images or even videos from web resources can be shown to highlight product features, illustrate use cases and provide a view of the products "in action". For fashion retail, pieces can be shown in different colors, varying cuts and highlighted by presentation videos from haute couture fashion shows.
At this stage, the RFID tags are attached as separate physical tags, but they could just as well be integrated directly into the fabric, creating an even more seamless experience and facilitating the handling of sales and returns.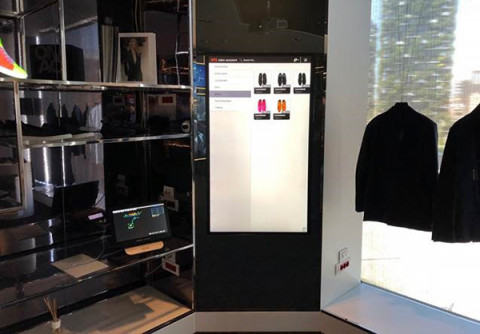 A futuristic vision of the retail world to come
The vision is to create a high-tech shopping environment: Imagine a store where the customer is greeted immediately by a shopping concierge upon entering the store. Using a guided-selling solution, the concierge accompanies the customer through the entire course of the in-store journey. On a tablet or a large touchscreen kiosk, they explore the product catalog together, easily navigating through the choices and identifying characteristics and features. Digital wardrobes serve as a playground, allowing customers to view themselves wearing pieces in different variations and background settings. Once the decision for a specific product has been made, the journey transitions smoothly into a payment setting. Using a tablet, the concierge handles the cashless payment of the customer's choosing. Everything takes place in an all-paperless process, as receipts are sent out digitally via email right away.
The customer leaves the store with the piece of his choice neatly packaged, as it never had to once leave its box. Due to the mobile nature of the concept, the concierge enjoys the freedom of either moving through the entirety of the store, as he serves the customer, or keeping to a specific part of the store. He's able to move at will, as all he might need is available right at the tip of a finger.
What the telco and the high-end fashion industry can learn from one another
While the two industries might not have too much in common on the surface, there are some key similarities: Customers are unique individuals, with their own specific desires and expectations. Sometimes customers may be excessively well-informed and holding strong opinions, creating the need for sales assistants to keep up-to-date and in touch with their products. On the other hand, some customers may enter the store with only a very general idea of what they are looking for. Such cases require the sales staff to be able to ask the right questions, provide insightful consulting and ultimately empathize with the customers and their personal needs. In any case, the customer should be the center of attention.
This type of customer centricity has been a constant presence in luxury retail and high-end fashion environments but is a relatively young phenomenon for telco and tech retail. The use of shopping concierges is a similar story, where the high-end fashion industry has been leading the way, recognizing that personalizing the retail experience is a key factor in creating long-lasting relationships between customers and brands. With NTS welcome manager, NTS Retail has already added a software solution to its portfolio that has been created to add a layer of personalization to the queuing process in telco stores.
What's on the horizon?
You might have already come across the term "endless aisle", describing a retail technology using digital screens to allow customers to browse the product catalogue digitally right within the store. Some implementations allow the customers to purchase products directly at the screen and either pick up products immediately in the store or have them delivered to their home.
Analytics will be another major driver for innovation going forward. Regardless of the specific industry, understanding customer behavior and recognizing emerging trends is a necessity for brands of all kinds. Data gathered directly within the stores can be put to great use, providing insights, for example, on which products are popular, how long consultations take and which topics are coming up most frequently.
Regarding the checkout process, there is one tendency and that is cashless payments in all shapes and forms. Future-proof checkout solutions need to be equipped to handle all relevant payment providers. Actual physical cards might very well become a thing of the past eventually, as payment solutions gravitate towards using NFC enabled smartphones as a means to identify the individual customer.
Working with Accenture to strengthen thought leadership in retail
Collaborating with Accenture has been an exciting experience for us here at NTS Retail and we can't wait to continue working together to bring forth additional innovations!