A New Digital Deal - Ars Electronica Festival 2021
This year's Ars Electronica Festival with the motto "A New Digital Deal" addressed digitalization and how humanity can cope with its accompanying challenges. What solutions can be found for the implications of digitalization and what role does sustainability play in this scenario?
Over the course of five days, around 30.000 visitors flocked to the different locations set up in the city center of Linz to experience art and culture. Culture enthusiasts came to experience the melting pot of artists, scientists, designers, and activists, all sharing their creations and message with the world.
The 42nd Ars Electronica Festival also marks a big step in an entirely new direction. For the first time in the history of the event, the exhibition was also made available in a completely digital format in addition to the physical event taking place in Linz. The program featured 186 partners from 47 countries all over the world who contributed creatively to the festival. The "Kepler's Gardens" - named after Johannes Kepler, the namesake of the University Linz - provided a digital and analog safe space for exhibitors and visitors to engage in insightful discussions and keep the social dialog alive while transcending physical barriers and limitations.
Like in previous years, a couple of NTSers got together to visit the festival and enjoy a tour through the festival area at university campus in Linz. To get an idea about how the festival was perceived, here are some impressions from our dear colleagues who attended the event.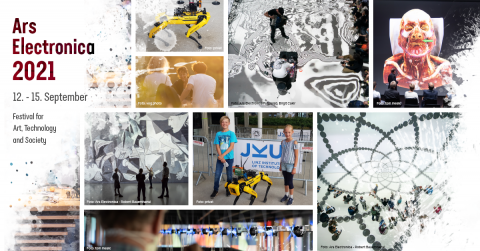 "My highlight was definitely The Museum of Edible Earth, where one could simply select from over 400 samples of different kinds of soil and eat some of them. I wasn't aware of the fact that earth is actually a pretty common food in some cultures", outlines our Head of Product Management, Gerd.
Bernd, our VP Account Management, stated: "I visited the festival with my kids. We especially loved the exhibition with all kinds of robots. As you can see in the photo, we are happy to have found a dog that all parents would accept without hesitation."