MWC23 Trend Report: Barcelona is back in full glory
Back to the routine slot at the end of February, the Mobile World Congress came back with a strong showing in 2023. For the first time since 2019, the event took place without Covid-related restrictions. The atmosphere was great with many brands returning with full force and impressive booths. Traditionally, the MWC is one of the most important outings in the telco industry every year and it certainly delivered to that end as well in 2023. Here are the most important observations our team took with them from the event.
This year, over 88,000 total attendees from over 200 different countries got to attend the 4-day event. MWC showed up strong this year as one of the most important international industry events, including renowned telcos like Deutsche Telekom, Vodafone, Telefónica or Orange – all of whom showed a strong presence at the event.
In the following blog post, let us examine the trends from this year's MWC.
Monetizing 5G with innovative OTT services and APIs
This is by no means a new trend, but telcos and vendors alike reiterated this at MWC: With 5G networks in place the question is how telcos can make these major investments back. The name of the game in Barcelona was "5G Acceleration". As more and more 5G devices enter the ecosystem and network capabilities increase, the question remains how telcos can position themselves as true innovators through 5G and not just as mere maintainers of the infrastructure. They need to make the jump from providing the rails to effectively building the service environment to facilitate any sale within the train.
One demonstration came from Orange, Telefónica, and Vodafone who introduced a concept relying on opening up 5G networks to application developers in order to drive innovation. The project aims to make advanced network capabilities available through APIs, such as user authentication, device information, or quality of service. This enables app developers to integrate powerful features and allows operators to open up an additional way to generate revenue.
We will likely see this take an impact on telco retail rather soon if telcos succeed in building out partner networks that allow vendors to offer their OTT services e. g. in a B2C or B2BC scenario. For the consumer, this could result in a longer device lifecycle and more variety in terms of the services they can access – from entertainment to identity management.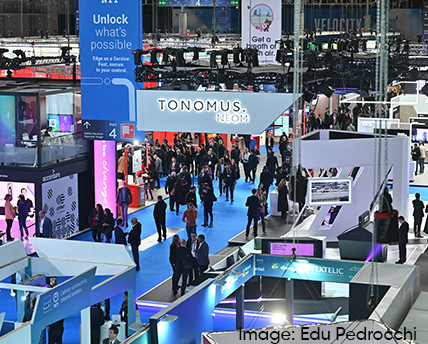 Standardization on open and intelligent networks
This leads us to another topic that ties right in with 5G and getting networks ready to provide more varied services is the trend towards standardization. With initiatives like the CAMARA project[1] or the TM Forum Open Digital Architecture (ODA)[2], there is a strong push within the industry to establish common standards. Such standards aim to facilitate the interoperability between the systems involved in the OSS and BSS stack and allow operators to replace system components more easily if the need arises. This implies sacrificing customized functionality for the sake of adopting standard processes and common data models. Software architectures need to fall in line with the transition, opting for more compartmentalized approaches and a service-based paradigm.
As the demand for highly skilled employees in the information economy is rising, the pressure is mounting to automate as much as possible. Standardization and modularity are essential requirements in order to facilitate large-scale automation. In line with the standardization paradigm is the trend to open the network up to vendor-agnostic hardware and software components. The vision is to create an open ecosystem of more efficient, intelligent networks. At MWC, this theme was sponsored by JIO using the moniker "5G Acceleration".[3]
How will this reflect into the retail side of things for telcos? Perhaps we will see telcos move onto a pure subscription model where the device becomes a commodity, and the assets are increasingly virtual. Or will retail transition into a D2C-dominated domain where manufacturers use network services to offer their products directly to consumers? It will be interesting to see for sure, but our guess is that most of these innovations will first come forth in young, strong, emerging economies like India before they appear on the European market.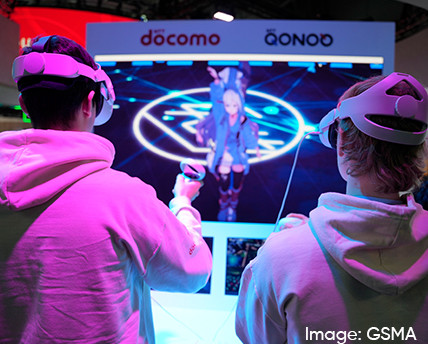 A fusion of a digital and physical reality
Another very interesting content track at this year's MWC was called "Reality+". Hosted by Deloitte and embedded into 4YFN, a sub-event at MWC revolving around startups and providing a showcase to some very innovative solutions, the theme was all about how immersive experiences and metaverse implementations can create new user experiences. A lot of the demos revolved around showcasing robots, VR/AR applications, and blending virtual assets into the real world. Beyond that, AI applications made a strong showing: from using synthetic data to simulate complex operations to using natural language models in communications and machine learning to optimize the supply chain.
Of course, some concepts may come off as gimmicky, but there were many solutions on display that might soon find their way into our everyday lives. Virtual store visits are one thing: Take your VR headset and embark on a shopping tour in a hustling and bustling metropolis. Shop on Madison Ave wherever you are in the world? Perhaps it will soon be a reality.
For AI applications, the advent may be more imminent, if they are not here already. ChatGPT has been all the rage recently and put a lot of focus on natural language models. But there is so much more that can be resolved and revolutionized using AI. The strongest pull will be created through technologies that can provide value to core business processes. Predictive models using machine learning to optimize stock management and replenishment or synthetic data modeling to customize offers are just two applications of AI that we think will soon become a widely used standard.
For telco retail, we predict that operators will take a route that focuses very strongly on business value. While VR/AR maybe used as an attractor to pull in a crowd, for example with dedicated showcase events, the real value will come from optimizing core business processes. Replenishment forecasting, inventory optimization, offer personalization, service automation – all these processes are on the verge of being transformed forever through AI use.
Our conclusion: Telcos are more willing than ever to go with open standards
If you want to take just one thing away from this year's Mobile World Congress, it is that you should be thinking about where your company could standardize effectively. If you have not done so already. It became abundantly clear that all companies, from CSPs to cloud providers and system integrators, are strongly relying on standardized components going forward. Where will this take the telco retail world? It will be interesting to see, but for sure it's a time to focus on core capabilities and bring them to a highly functional standard implementation.
Article References
Other References: