A look behind the scenes of 'kook' – our company kitchen
Food is an essential part of our daily wellbeing. It is particularly important during tough working days when we need our minds and bodies to work at full capacity. A delicious lunch full of nutrients and vitamins goes a long way towards keeping moods and productivity up during a day of work. At NTS Retail, we value good, healthy food, and a sense of community, which is why today we want to put a focus on our company kitchen in our office in Leonding. We affectionately call it 'kook', a cozy kitchen and break room where the team comes together to enjoy lunch, have a coffee, or just relax over a round of foosball.
It's all about cooking and enjoying food together, after all, food is a very universal pleasure that brings people together everywhere. When it's time to cook for the NTS family, the minds behind the delicious home-made meals are Kerstin & Kathi, the two lovely ladies who look out for our culinary wellbeing. Their approach is as simple as it is delicious:
Source as many ingredients locally as possible
Use fresh high-quality products
Cook simple dishes that everyone can enjoy
When it's time to eat together, you'll hear an iconic sound: As NTSers from all parts of the office walk down to the second floor, the chatting and footsteps echo across the halls. It's a pleasure to see the office so busy and the passionate rush to the second floor has become a wonderful iconic ritual. In this post, we would love to share some insights with you about how the idea of our 'kook' came about and, of course, the people who make it such a special place.
How the idea of 'kook', our company kitchen, came to life
We sat down with Günther Schrammel, our CEO, to have a chat about the thought process behind establishing our own company kitchen at the office in Leonding.
When was kook opened to the NTS family?
In general, the concept started to come together in 2019. It took us 3 months from the initial idea to actually carrying it out.
How did the company kitchen get its name?
It is a combination of the English word "cook" and the initial letter of the names of our two amazing ladies, Kerstin and Kathi, who cook all this delicious food for us.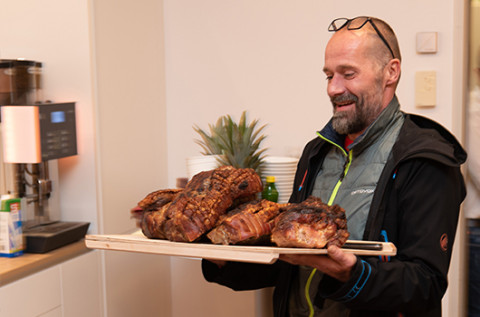 How did the idea of creating a place like 'kook' come about?
From a management perspective, providing the NTS family with fresh and healthy food options is an important goal that has always been very dear to me. As a family-oriented company, the idea was to have a company kitchen that we could use as a common place to bring people together. To celebrate, have our all-hands meetings, and to relax after a day of work. Looking back now, we see that kook has helped us tremendously in creating an environment that strengthens the team spirit and encourages interaction. NTSers from different departments can spend time together as a big group, communicate with each other, or just relax.
Of course, from a company perspective it was an investment; but it pays off by creating a positive, familiar atmosphere and inspiring people to engage in conversation.
The cooking process – where all the magic happens
We also had a chance to talk with Kerstin and Kathi about their favorite dishes and what matters to them as they prepare a meal for the NTS family. 
How do you plan what to cook? Who decides what's on the menu?
Basically, we look at the ingredients that we still have at our disposal. Based on that, we plan what to cook and what ingredients to buy. When it comes to the planning and cooking process, we split responsibilities. One of us is responsible for the vegetarian and the other one for the meat dish.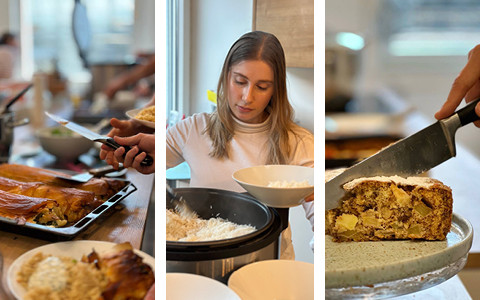 When planning dishes, do you usually consider the preferences of the NTSers and take in suggestions?
We typically come up with meal ideas ourselves. Up to this point, NTSers have always been happy with what we offer them and so far, this process has been working well for us and we are glad that the feedback has been so good.
What dishes do you enjoy cooking the most?
Our favorite dishes to cook are butter chicken and lentil daal but we also know that NTSers really love sweets like cakes or fruit salads.
Where did you learn to cook all these dishes?
We mostly learned it ourselves. The passion for cooking was passed on to us by our mum, who is an incredible chef in her own right.
What our colleagues say about kook
We sat down with our colleagues Daniel Sierninger (Software Engineer), Michael Wenzler (Key Account Manager) and Nina Wolf (Marketing Specialist) to talk a little bit about their impressions of kook.
Which dish is worth waiting for the most?
Daniel: I always look forward to the chocolate cake. 
Michael: My favorites are usually veggie options like different kinds of quiches, tartes, or Bärlauchknödel.
Nina: I always look forward to the many curry variations or the lentil daal. Once, Kerstin and Kathi whipped up the most incredible Mac and Cheese casserole and since then, that has been my favorite dish here at kook. 
Is there any dish that you've tried in kook for the first time in your life?
Daniel: There are too many to list here. I didn't know half of the dishes before.
Michael: Especially their creative and tasty salad bar is always full of great surprises.
Nina: Before regularly visiting kook, I've never had Curry Laksa. 
Except for the food, what do you like about kook?
Daniel: It's cozy and you also meet colleagues from other floors and departments, that you don't usually see so often.
Michael: The cozy atmosphere and the sense of community you get from eating there.
Nina: I really love the proximity to my workspace and the atmosphere.