The stock management software for telecom operators
NTS Retail's stock management solution reflects our deep telco-industry knowledge that comes along with 350 successful telco retail projects for operators in more than 20 years.
As top-of-the-shelf solution for communication service providers (CSP), NTS Retail's stock management covers all standard telco processes out-of-the-box. This guarantees low implementation and customization efforts. NTS Retail is perfectly designed to be used by staff. A unified stock management solution with the same look & feel helps to increase user experience, reduce training costs and increase sales efficiency.
NTS Retail provides a comprehensive authorization concept on user-level for a perfect control of all sales and stock management processes. Predefined workflows and a powerful fraud prevention system with comprehensive check mechanisms help to reduce user failure and fraud activities in store and in the goods fulfilment process.
Transparent stock management processes
NTS Retail provides all functionalities of a modern stock management system for your branches and partner shops. Elaborate stock control functions prevent bottleneck situations and thus guarantee optimum product availability.
All goods postings relevant for your branches—from goods acceptance through relocations to return shipments and orders—are carried out in a highly automated fashion. This allows your staff to fully concentrate on tending to the needs of customers. Above all, clearly defined stock management processes bring high transparency in regard to order and delivery statuses as well as the necessary operational overview. A high degree of user-friendliness and a maximum level of security ensure swift and error-free stock handling.
NTS Retail's mobile stock management software provides additional ways of accelerating and simplifying individual processes while providing maximum flexibility and user comfort. Stock management and control takes place directly at the respective inventory location.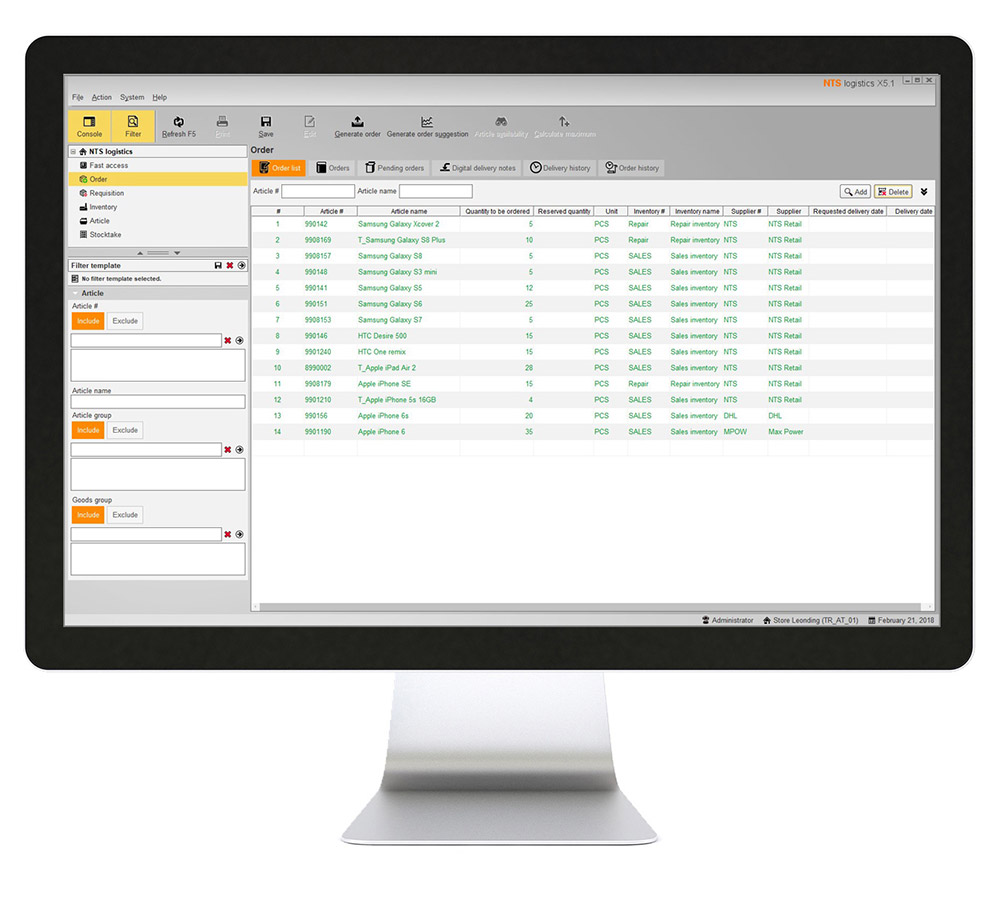 Short Facts
Accurate inventory balance -> reduce stocktaking costs and improve on-shelf availability
Seamlessly integrate supply chain & fulfillment processes with sales / POS
Autonomous stock management for franchise partners
Designed for international retail organizations with various sales channels
Order functionality
Stock postings
Mobile stockcount solution
Customer reservations and direct delivery option
Overview of all pending, overdue, advised and partially delivered orders
Goods receipt via digital delivery note (DBOD)
Easy handling of shop-to-shop transfers
Reprinting of receipts for and cancellation of goods movements
Serial number status overview
Access to stock levels across all stores