The mobile variant of the NTS POS solution takes your store employees even closer to your customer. The NTS mobile POS software allows your agents to engage in fully informed, professional consultations with today's sophisticated customers and enables them to make purchasing decisions easily and quickly.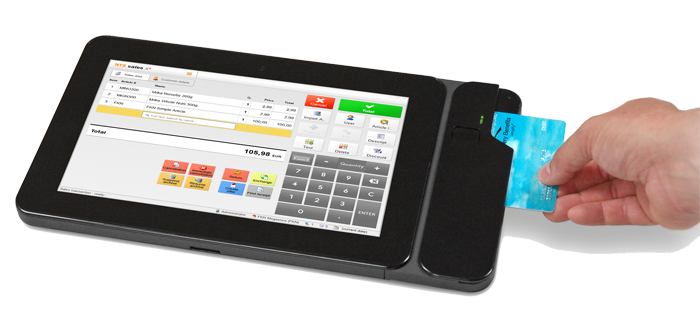 Excellent sales consulting directly at the customer
Using this portable sales tool your sales staff has all relevant product, pricing and customer information at hand—the entire store on a single tablet device. Provide sales consulting directly at the product and close the deal right where you are—simple, fast and efficient.
Efficient sales consulting through comprehensive article information
Access to stock levels across your entire branch structure
Close the deal right where you are
Interact with your customers directly at the product with NTS mobile POS software
Detached communication with your typical POS peripherals
In-store customer experience
We see your stores as the calling card of your retail business and thus put great emphasis on in-store customer experience. Independent of stationary sales counters, your sales staff is able to transform your shops into a much more attractive sales world for your customers leading to an increased sales efficiency and ideal customer service.
Re-image the POS
Free your staff from counters/mobilize staff-customer interaction
Make the most of your retail space
Shared hardware stations
Finalizing a sales transaction requires the use of various hardware devices such as EFT terminals, cash drawers or POS printers. In order to be able to use such peripherals also within the frame of a mobile POS concept, you can set up on-demand hardware stations. These can be installed somewhere hidden from sight and shared between several different terminals.
Embrace a modern, uncluttered store design thanks to "hidden" hardware devices
Access POS peripherals via WLAN
Save costs by sharing devices between several mobile sales terminals
Handling telco-specific processes via mobile devices
Telecom-specific processes can easily and conveniently be handled via mobile device:
Perfectly integrated
Thanks to its deep integration into your backend systems—including CRM, ERP, eCommerce, Billing and Charging systems—the NTS mobile POS software allows online handling of system-wide processes such as bill payments, order generation and direct deliveries. NTS Retail acts as the single point of service in your retail stores.
Single point of service thanks to a seamless integration with your backend systems
Support of omni-channel processes (e.g., same-day delivery, online purchase with goods pick-up at a store or in-store purchase with home delivery)