The NTS vShelf acts as your digital showroom that allows you to showcase your entire product catalog in even the smallest of spaces. NTS vShelf, a virtual and interactive digital signage tool, enables CSPs to overcome the limitations of traditional store designs and bring their product range closer to their customers. Be it directly in your store or in a shopping window - even outside of the regular opening hours (24 hours a day, 7 days per week). Drive sales of accessories while at the same time reducing storage costs.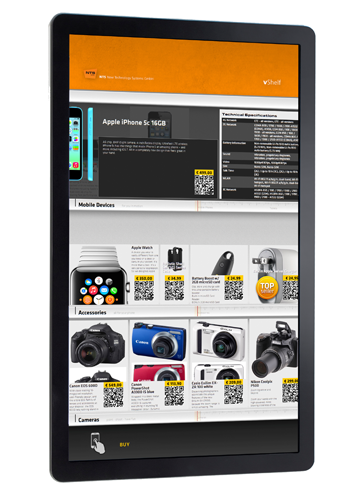 Interactive digital advertising display
The NTS vShelf offers far more than any conventional digital advertising display. Thanks to its interactive operating concept, your sales staff can use it for consultations with customers. However, your customers can also use it to explore your product world completely on their own.
Competitive advantage through trendsetting technology
Increased sales of accessories
The virtual product shelf proactively supports your sales agents by adding a little extra in regard to infotainment. This new digital sales approach facilitates cross and up-selling and leads to increased sales of accessory articles.
Increase your cross and up-selling rate by up to 30%
High-quality sales consulting with top-notch infotainment
Reduced storage costs
Provide your customers with a whole spectrum of accessories, vividly presented via the NTS vShelf—all without the need of having everything in stock. The NTS vShelf even allows you to realize a shop-in-shop concept that makes it possible to offer products of your partners in your own shop.
The NTS vShelf thus brings significant reductions of storage costs while simultaneously expanding your product range.
Reduce your storage costs by up to 70%
Improved customer service through home delivery
Your customers are able to order articles that are currently not available in the store via the NTS vShelf and pay for them directly at the cash desk. Opting for home delivery, everything will be conveniently delivered as soon as possible.
Top service and satisfied customers through home delivery
Key Features
Interactive product catalog
Allow your customers to browse through your entire product range
QR code feature
Link your products directly to a web shop or any other application
Multimedia
Impress your customers with a broad range of images and videos
Highlight special offers
Advertise your current offers and newly arrived products with eye-catching labels
Mobiles shopping
Products displayed via the NTS vShelf can conveniently be reserved or bought, using an easy-to-use smartphone app