NTS Retail's analytics platform provides your management with an overall view of what exactly is going on across your retail network. In real-time, they can drill down throughout your direct and indirect sales channels and monitor your retail performance at each organizational level (e.g., regions, sub-regions or individual stores).
 

NTS Retail Analytics tells you what exactly is happening inside your stores
Our retail analytics software delivers precise in-store KPIs that can be perfectly interlinked with data from other sources in your omni-channel environment. This enables you to understand your customers' journey and design a holistic customer experience program.
Contextual information about your store visitors reveal valuable insights about your customers' needs and the potential of your service offerings. All this information combined supports you in achieving some of the top business objectives:
Maximizing conversion
Fostering up and cross-selling
Increasing ARPU levels
Improving customer loyalty and retention
Reducing churn rates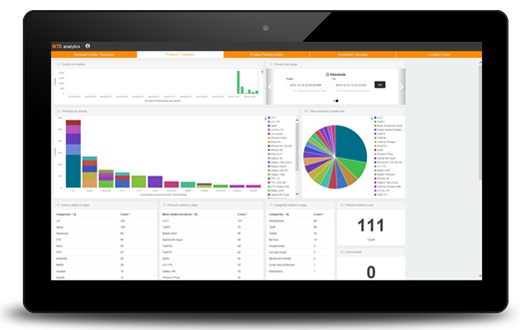 Unified data sources
When talking about retail analytics software, data integration and consistency across all channels represent a core challenge for telco operators. The aggregation of data from multiple data sources is an intensive and expensive process since, in most cases, the data structure in the various systems is not uniform. The recipe for success in terms of in-store analytics relies on a seamless integration of all touchpoints across a customer's journey.
NTS Retail utilizes different data sources along your customers' in-store journey in order to derive and combine valuable key performance indicators and take appropriate measures in real-time.
User interaction tracking
The retail analytics software from NTS Retail enables you to seamlessly track your sales agents' consulting activities and your customers' path to purchase. Get a deeper understanding of how they interact with your store employees, how they use your self-service applications, where you grab their attention and at which stage you lose them. In addition to that, you can supplement the collected data by suitable technologies. 3D cameras installed on the ceiling, for example, can be used to track the number of people in the store as well as how they move around. Web cams with face recognition software can even determine a customer's approximate age, gender and whether they are currently paying attention to a screen.
The thus gathered data is then graphically presented in the form of individually adaptable information dashboards. Those indicators enable you to exactly measure the success of your initiatives to increase customer experience and revenue.
Performance analysis
NTS Retail delivers deep insights in regard to your store performance, goods flows and stock management. Building on these resources, you can precisely monitor, analyze and optimize relevant retail aspects such as store operations, performance and the effectiveness of store processes.
Demographic aspects, power hours
Promotions planning
Stock management and goods flows
Order fulfillment processes
Fraud detection and prevention
All information is captured in real-time and can be broken down by various different levels. Combined with user interaction tracking, this provides the perfect basis for important management decisions, enabling you to timely react to current market changes and adapt running campaigns in a highly dynamic way.
NTS Retail analytics software enables you to:
Download Paper