Unified commerce for a true omni-channel experience

As digitization keeps progressing, new customer behaviors and demands are emerging. CSPs are facing challenges to their established business practices with new opportunities arising from bringing together digital and analog sales environments.
Our commerce platform has been designed to help unlock the potential of both modes of interaction — digital and traditional communication — and leverage them on every channel. Thanks to a rich pool of unified services, business functionalities can be made available consistently across any system or device. Seamlessly connect any customer touchpoint to your commerce back end. Empower sales associates by providing them with accurate information on products, promotions and customers. Create a unique customer experience by putting the focus on your customer.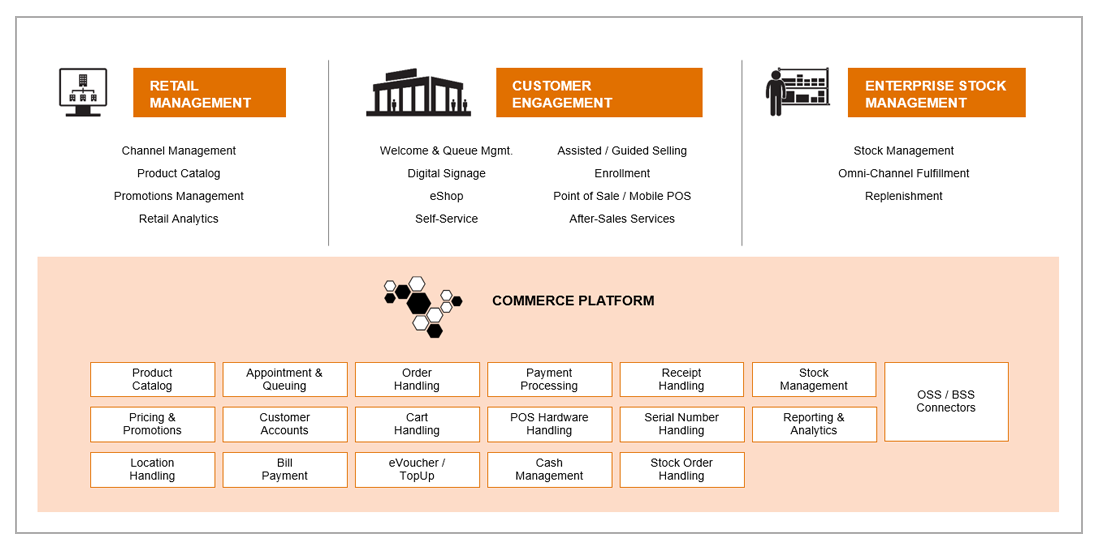 Benefits of NTS Retail's open commerce platform
 
Deliver an omni-channel customer experience by interlinking all customer touchpoints
Short time-to-market for the implementation of new features and services
Reduced deployment efforts for continuous releases, pilots and functionalities
Be open and flexible to quickly react to upcoming business demands
Reduced TCO thanks to lightweight front-end solutions
Enable holistic analytics for precise business decisions by connecting data sources from all channels
Simplify system maintenance by avoiding redundancies and dependencies from other applications, hardware devices & databases
Centralize functionalities keeping local data on a transactional level
Commerce API
Our commerce API is an open standard API with a common structure based on REST technology.
Its design follows the open API specification as suggested by TM Forum.